Mold growth is the result of water or moisture infiltration into your home or business. It may grow unseen due to a hidden leak you didn't know was there. Or, the mold growth may result from incomplete drying following water or storm damage. If water damage restoration isn't complete, the remaining moisture provides the perfect environment for mold growth.
ACT offers professional mold remediation services in Wichita, Kansas and the surrounding areas. Our mold inspectors and mold remediation specialists have provided mold damage restoration services for a wide array of clients, including residential homes, apartment buildings, hotels, daycare centers, restaurants and other commercial properties.
I found mold in my home, but don't know what to do. I was having trouble breathing, especially in the mornings. After a few hours of being out and about, I felt fine again…until the next morning that is. I soon learned that a leak was causing mold to grow inside my bedroom walls.
Emergency Mold Remediation Services
Mold grows where there is excess water and moisture over a period of time. If you already have a mold problem, it's important to act quickly. The longer mold grows, the more damage it can cause.
Mold can spread throughout a property in as little as 48-72 hours after the introduction of a water source. Mold not only damages structures—it can produce allergens and irritants that have the potential to cause serious health issues.
The most effective way to protect your family and property from the threats of mold is to have it remediated immediately.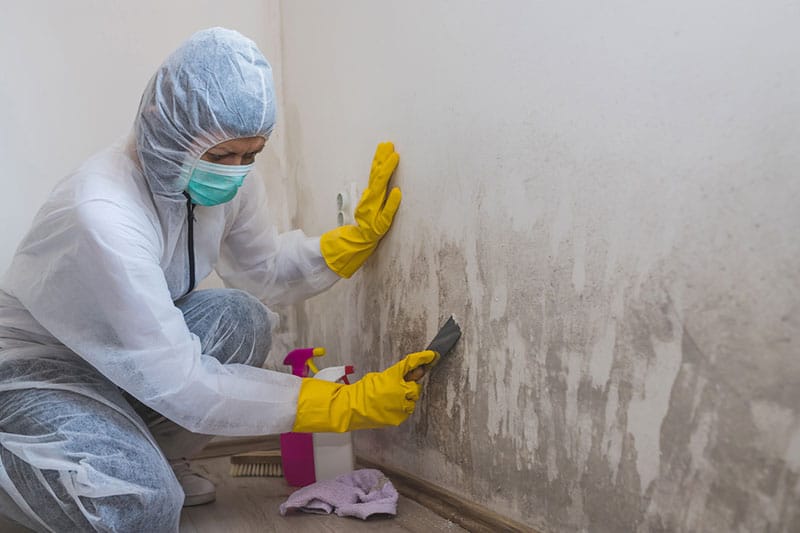 Mold Remediation vs. Mold Removal Services
"Mold removal" is the common term used by customers when requesting service for a mold problem. This makes sense—you just want that mold gone! "Mold remediation" is the more accurate industry term. Microscopic mold spores exist naturally both indoors and outdoors. Removing all mold spores from an environment isn't possible or even needed.
Whether you call it mold removal or mold remediation, the end goal is the same—getting mold spores in the home or business back to a healthy, normal level and restoring mold damage.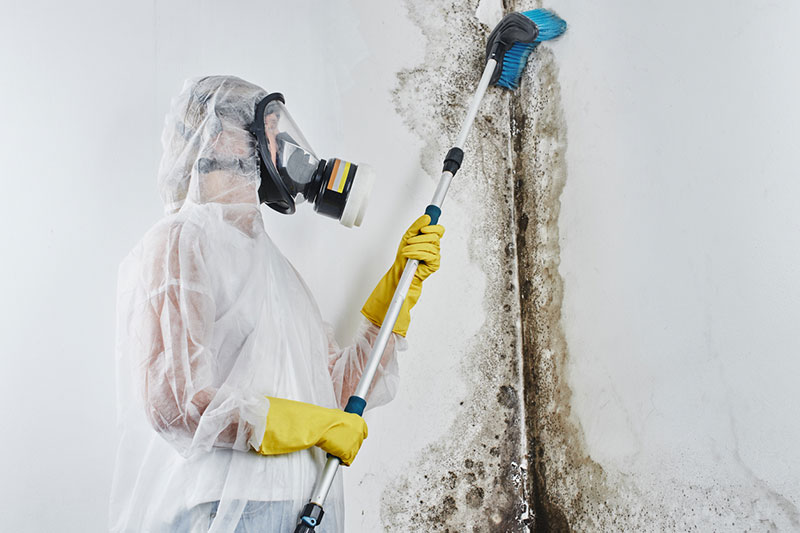 Mold Removal: Don't Try to DIY!
Googling "how to remove mold" will bring up hundreds of DIY methods for mold removal. However, trying to clean up mold yourself isn't a good idea. Many species of mold creates toxic spores, which can contribute to a variety of health issues, including respiratory conditions, headaches, fatigue and rashes. It can even trigger dangerous allergic reactions.
Mold removal requires special precautions and protective equipment to not only avoid the spores, but to prevent them from spreading. In trying to clean up the mold, you may accidentally transfer the spores to a different area. The cleaning solution may not adequately treat the mold problem.
When it comes to safely removing mold, leave it to the professionals at ACT. We recognize that mold not only damages property, but it can also have serious effects on human health. Our goal at ACT is to completely eliminate this hazard with minimal disruption to the occupants.
Why choose ACT for your mold remediation services?

Certified Mold Remediation Company
Certification matters. ACT is a professional mold remediation company with certifications and memberships in numerous professional organizations. The service we provide is in compliance with all current industry standards for mold remediation.
Our mold remediation professionals are:
Certified in ALL disaster response and recovery disciplines
Certified by the Institute of Inspection, Cleaning and Restoration (IICRC)
Certified in commercial air duct cleaning
Superior Service at Competitive Rates
Whether you need mold remediation for a recent water damage event or mold removal for an existing problem, we offer superior service at competitive rates. Our mold inspectors can assess your property, eradicate the problem, and restore the integrity and once-healthy environment of your home or business.
Mold Odor Removal
Once the area has been restored to normal conditions, the professionals at ACT will then shift their focus to mold odor removal. Our innovative deodorization techniques will leave your home or business fully restored.
Don't Live a Nightmare
Just the word "mold" strikes dread into the heart of any homeowner or commercial property owner. The good news is that it's a fixable problem and doesn't have to be a nightmare. What can be a nightmare is working with a mold removal company that doesn't show up on time (or at all), overcharges, leaves a mess, or doesn't have high service standards. You've been through enough without dealing with that.
With ACT, you are the priority. We promise to treat your property as if it were our own, and to show you the respect and understanding you deserve—especially at a stressful time. We'll communicate with you every step of the way to alleviate any worry, concern and fear you have. Those concerns are normal when facing a mold problem. You'll know what we plan to do and the cost upfront.
To us, mold damage restoration isn't just a job that needs to get done. It's about helping our customers get their lives and business back to normal.